"ALFA ENGINEERING WORKS"
,  Established in the year  2015, In  Vasai East, Mumbai.
Welcome to
Alfa Engineering Works
We are please to introduce ourselves as leading manufactures if  Overhead Cranes, Wire Rope Hoists. Goods – Lift, Hydraulic Scissor Lifts, Flameproof Hoists. Our products capacity ranges from 0.5MT to 20MT as per IS code – 3938 and IS – 2148 for flame proof suitable for Gas  Group IIA and IIB. We are here to satisfy all technical requirements, implement quick operations and achieve better productivity. To gain a high standard production, we have well qualified team of engineers and  technicians having an experience of many years in production and quality control. Hoists with lower headroom, higher capacities and longer snap can be designed based on customer's / industries's  requirement and their application with CAD designing.
Our Mission
To provide the highest quality service to our customers, we constantly work towards cost efficiency / and maintain delivery deadlines. To encourage our employees/ workforce to strive for quality & excellence in everything they do. To promote team work and create a work environment Crane that takes care of talent and brings out the best in our employees. Our specialties Eot Crane Manufacturer,Lift Manufacturer, Electric Wire rope hoist Manufacturer.
Our Vision
To become the premier company that cuts across various segments and emerges as the torch beared of each segment that the Group Ventured into.
EOT crane is extensively used in the warehouse, workshop, and stock ground of pilining, unloading or relocating heavy load.Generally speaking, the EOT crane is equipped with the mechanical means to realize the traveling not only in both directions but also can raise or lower the heavy load easily. But should pay attention to that EOT crane is forbidden to used in the explosive, combustible or corrosive environment, and the working temperature is approximately from -20℃ to 40℃ EOT crane manufacture in india.     
A crane is a type of machine, generally equipped with a hoist rope, wire ropes or chains, and sheaves, that can be used both to lift and lower materials and to move them horizontally. It is mainly used for lifting heavy things and transporting them to other places. The device uses one or more simple machines to create mechanical advantage and thus move loads beyond the normal capability of a human. Cranes are commonly employed in the transport industry for the loading and unloading of freight, in the construction industry for the movement of materials, and in the manufacturing industry for the assembling of heavy equipment Lift manufacture in india.
AIfa Crane Overhead Cranes is the Overhead travelling Crane (OHTC). We can supply all possible types of crane.
ALFA Wire Rope Hoists are designed in modular construction which greatly simplifies repairs & cuts down time electric wire Rope hoists manufacture in india.
Alfa Freight / Industrial Elevator is an elevator designed specially to carry goods.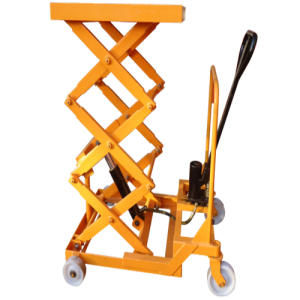 Hydraulic Scissor Lifts are ideal and mos handling equipment, for loading/unloading operation or shifting of material from one floor to another. 
Dock Levelers are an adjustable ramp which compensates the difference in height.
Alfa Hoists with flame proof electrical confirm to IS: 2148. All flameproof electrical used in the hoists are duly certified by Central Mining Research Station, Dhanbad and are suitable for Gas Groups I, IIA & IIB.